4-1-08: . . . Is A Good Day
After breakfast I packed up everything but the tent and set out to take advantage of more nice weather. I took a walk out into the salt marsh and took pictures of
lizards
,
bees
and
fiddler crabs
. Then I drove to an inlet and watched the osprey hunt for fish.
The visitor center had been closed yesterday when I got there walking so I went again today and read the various nature displays one of which included mention of alligators in the pond outside. I asked the ranger if there had been any sightings lately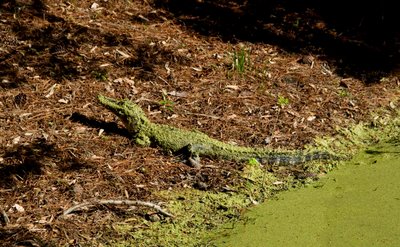 and she led me outside and pointed out a young alligator about a meter long. I had walked right past it on the walking bridge to the building. Apparently a much larger one had been sunning earlier but was now invisible. I figure any day I can take a picture of an alligator is a good day.
I wandered around and climbed the old lighthouse. From the top I could see rain and hear thunder so I drove into the town of
Beaufort
for
Chinese
food. Back at the campsite it soon started to rain and I hunkered down in the tent writing these notes and reading
The Omnivore's Dilemma.