4-6-08: Congaree
Still in the motel I checked email, packed up, breakfasted at Denny's—I finally got some grits after all these days in the south. A couple hours of driving mostly Interstates then into some farm country then
Congaree
National Park. It's the largest old growth flood plain forest in the east. Trees grow bigger here. There are few to no alligators because there is a complete canopy and the gators need sun. I'm glad
Congaree
is here. I'm glad the camping is free. Quite a change from the State Park RV sites that charge almost as much as nearby motels.
I took a long walk—over five miles. I saw a water snake,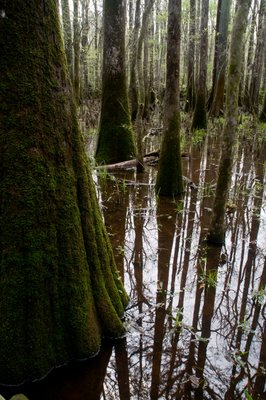 a couple turtles, and some
pileated
woodpeckers. The bald cypress and the
tupelo
trees standing in the still water are way charming. I spent some time sitting on a log on the bank of Wise Lake trying to soak up some wisdom somehow. Then back along Cedar Creek which is said to be and looks like good
canoeing
.
My daughter phoned while I was making dinner at my campsite but the connection was weak and I only heard a couple words. Afterwards I waited for a text message but none came. For some reason this made me sad and weepy. Maybe it symbolized all the weak connections with loved ones through the years.