5-6-08: I Think That I Shall Never . . .
I had a good night's sleep with lots of dreams about Asians and lots of deep intuitions about something that bothers me—something that I must never bring to
consciousness
and must constantly guard against bringing to
consciousness
. Just knowing that is useful. It makes me envision what it would be like to not have a blind spot.
Wouldn
't that be nice.
I got a shower for four quarters and then some free ice for the cooler and wandered around a bit getting info and trying to think about what to do next. I got into a conversation with a young man who works for
NOC
as a photographer. He takes pictures of the rafters going through the rapids and the camera sends them to the studio via
wi
-
fi
so when the client gets to the end of their trip they can buy a
cd
with documentation of their adventure.
I set off
vaguely
thinking I would go up the road a bit to see what was there. I saw a sign that said "Joyce
Kilmer
National Forest" so I took that. And through a lot of times when I had no idea where I was, I actually did get to that place. I found a campground nearby and staked out a site for five bucks. I asked a ranger who was overseeing work on the water system what may be good places to camp for free and where can I get some good photos. He gave me tips and off I went. I cruised the general Joyce
Kilmer
area, got some pictures, listened to NPR, and had a nice lunch of salad greens, pretzels and oranges.
Last on my itinerary was to take a hike to the Joyce
Kilmer
memorial. It is in an old growth forest with huge tulip poplars. I was feeling kind of weary before I had gone a half mile. I sat at the memorial stone and took a picture or two when an old man, having a hard time walking, came down the trail. He sat down and we talked. He got out of the navy in 1946 and became a teacher in Michigan and then in California. Later he just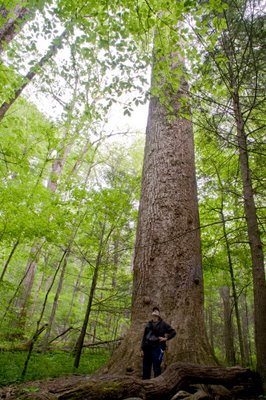 didn
't like being at home so he wandered all over the world. He hiked in Iceland, South America,
Antarctica
. He was fascinated with trees and knew their
Latin
names—is writing a book about them. We talked of trees, ecological issues, the evil of war, and other things. Then he said he had to go and got up with obvious pain and went down the trail.
I took the rest of the hike wondering at the beauty of these forests. The fact that there are people like me and the tree guy and the people who see that these forests are protected tells me that many of us value the aesthetics of nature. Some don't. The trend is that we are losing more and more of that beauty.
When I got back to my campsite I made a delicious dinner of potatoes and cheese using the boiling potato water to heat the glue to patch my air mattress and also setting up the computer on the picnic table at the same time. All very efficient so I could eat and work on photos at the same time. One must use one's time wisely.