4-12-08: Thanks For The Nice Day
There was a lot of shuffling and planning by me and my two sisters so we could go up to
Asheville
today. I almost completely emptied my car for the first time in over two months so I could leave it to get the rear speakers replaced. It was good to see the bottom of all the junk in there and to have hope of taking out all the stuff I never used and shipping it somewhere. We got rolling for real around noon and the weather did not look promising. Rain was falling as we left
Greenville
.
As we climbed the mountains it became more and more
beautiful
and more and more clear sky appeared. By the time we got to
Asheville
it was very nice and we found an excellent restaurant for lunch. Thence to the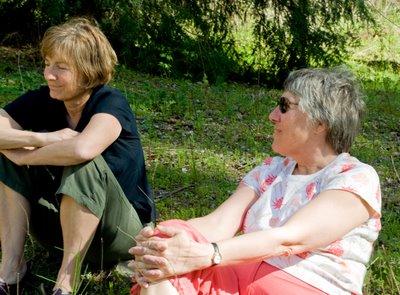 little town of Hot Springs North Carolina where we lounged in warm mineral water for a couple hours then took a nice little nature walk in the budding
rhododendron
forest.
By the time we got back to
Asheville
it was time to eat again which we did with gusto in a very nice vegetarian place. After dinner we took a walk around the town and looked at lots of art galleries. There is a ferment of beautiful glass work in this town. And much, much, more.
What a pleasure to spend such a lot of good time with siblings and have it be so enjoyable. We vow to do more. Some days are just magic and this was one such.
The sunset was magnificent as we set off again and we had a nice drive back. My car was ready and the stereo sounds good again. Listening to the gorgeous
Concierto
by Jim Hall was a moving pleasure again.