4-15-08: Launch Postponed
Last night, having made the commitment to go
canoeing
, I was very aware of my fear. I kept waking up and thinking of things that could go wrong. Will the canoe stay on the top of the car? Will it leak like a sieve? (I wrote a note to buy some duct tape and a big sponge.) Will I be able to sleep along the way listening to the alligators roar and hiss? Will I get the canoe tangled in brush and capsize?
It
is
a considerable act of faith. I have never taken this long a canoe trip before. What was I thinking? The vessel is untested. It's been sitting around for quite a while from the looks of it. Well, faith is exactly what I need to practice. It turned out that by focusing on my fear I dropped off to sleep. The fear came from thinking about the unknown future but the fear itself was in the present. So focusing on the fear was focusing on the now and that is generally tonic.
Back down through the South Carolina
Lowcountry
. It was soon obvious that the new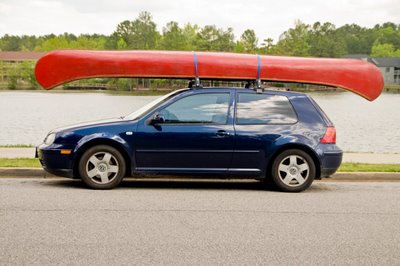 ratcheting tie down straps worked perfectly. Though the canoe is much longer than my little car it rode fine. I cruised at 70 MPH with no hit on fuel
mileage—just the same as the car top carrier
. The trees have leafed out in my absence. Very pretty.
The drive to the river was uneventful except for an ugly shopping experience at the Home Depot buying, you guessed it, duct tape and a big sponge.
I tried to get to the river soon enough to catch a shuttle to the put-in place but
didn
't quite make it in time. So I camped near by in
Colleton
State Park which is right on the beautiful full-flowing
Edisto
River. It is also on U. S. Highway 15 and next to a noisy power plant. Not the idyllic vision I had for tonight but certainly not scary either. The only thing that worries me is that it means one more night to anticipate the worst. Maybe that won't be necessary.