4-9-08: How To Attract Birds
I said goodbye to Congaree by taking one more walk. I had lots of insights into the causes of my compulsive conceptual thinking. Most children are probably encouraged to shut off their non-conceptual ways and encouraged to pump up their more abstract symbolic thinking. It is ego. It is addiction. It is avoidance. In any case I had a nice morning drifting back and forth across the boundary between these polarities. I must say,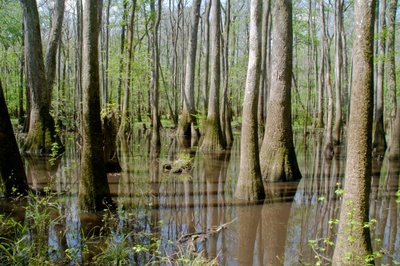 if I could spend more time away from my ego and its endless self-justification I would be a lot happier.
I slowly walked part of the Weston Lake loop trail along Cedar Creek. I watched myself seeking approval via the camera—looking for something to show off. There were birds everywhere but I could not see them. I could hear their calls and even identify a few but try as I might, I could see none of them. I decided to not take any more photos today just to stop that part of the ego machine. Within a mile a little bird with a yellow throat presented itself within a few feet and flirted with me. Soon another kind came and landed right next to me in a small tree. Then farther down the trail another. Life colludes to teach.
I was really tired by the time I got back to the camp and packed it up. On the way to Greenville I had to stop at a rest stop to keep from getting too drowsy at the wheel. I did fine with the air conditioner and NPR on.