4-5-08: The King's Road
Up and at 'em with no real plan for today except to get into a motel and process some of these photos. There is always a tension wondering if I really got something or not. Also I want to go to Congaree National Park but they are first come first serve and it's Saturday so Sunday gives me a better shot at getting a campsite. As it happened, there was a huge thunderstorm this afternoon and I was glad I wasn't stuck searching for a tent site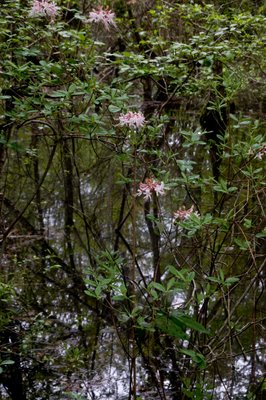 somewhere.
I stumbled on a little nature walk where highway 17 crosses the Edisto River and took it. Interesting history of the area in the little pamphlet and displays. Rice farming, logging, railroads, two different major roads from Savannah to Charleston (one, called The King's Road predates this nation by a century and went to the then Charles Towne), phospate mining, barge canals, all leaving their traces. Now mostly just
nice swamp
with flowers starting to bloom and the canopy is closing in with new leaves though still with an early spring green filigree quality. I saw no one else on the trail.
I checked into the motel, sorted through the winners and loser photos, published some bloggish notes, got Chinese food and went to a meeting. A good day.