Getting There
Last night in the hostel was pretty good. Nice people having a Super Bowl party. I slept well with the ear plugs. The cooking feature is real nice. I don't think I love the dorm idea but that's why it's cheap.
Out of there around 10:30 and rolling south on hwy one with a lot of stops to look around and try to take pictures of hovering ospreys but they always soared away. Good for me to get out of the car anyway.
The coast was gorgeous with a sparkling clear day. I'm so glad I chose the coast route.
I had one juicy insight which I recorded on my little voice recorder to wit: "I was driving today and I felt like I wanted to pass this car but I didn't really know the road well enough to figure out whether is was safe to pass or not and I could feel the feeling of what it is like to take a gamble that I can't afford to lose. The feeling was familiar telling me that I sometimes perform desperate acts. "
Some time in the afternoon it became warm enough to take off my coat. I got a fish taco in Morro Bay and the guy told me about a State Beach that has hot showers near Santa Barbara.
I must say that it was great moment when I had the Roadmate GPS telling me where to go and the laptop telling me where the wifi was.
I was getting tired by 5 and had no arrangements for a place to sleep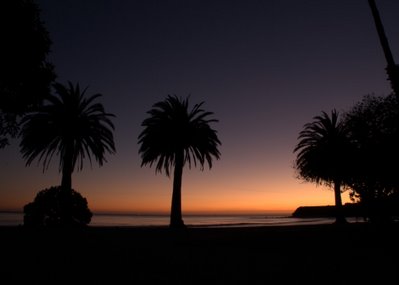 and no clue whether El Refugio State Beach would be crowded but I kept telling myself to trust. Sure enough I made it with only mild sciatica and there were lots of camp spots right on the beautiful sunset lit beach (see photo).
In the morning I cruised the street in Santa Barbara where my career an an addict really took hold. I remembered quite a lot considering my condition 47 years ago.
Stabbed the map and I'm heading east now for a while. Looking for warm nights too.