4-16-08: Rolling On The River
I got up at 6 AM and by 9 I was at the North Fork put-in: Kill Kare Landing. With help from Mickey, my shuttle driver, we put the canoe in the water. I said goodbye to Mickey, loaded my gear, and tied it in when I noticed a small leak. I turned the canoe over, wiped the suspicious area with paper towels and put my new duct tape over the rough spot. Loaded up and donned a life jacket because I had no idea what to expect. All the gear is in waterproof bags and tied into the canoe in case of the worst. I pushed off at 9:30.
I am a fair canoeist and the river turned out to be quite friendly. I soon took off the flotation and enjoyed the ride. A few wood ducks, a deer, turtles, and one nice view of the giant
pileated
woodpecker flying across the river right in front of me.
By eleven I reached the confluence of the the North and South forks. It seemed too early so I paddled upstream on the South Fork just to get the full experience.
I paddled upstream against the strong current until afternoon when I stopped for lunch. I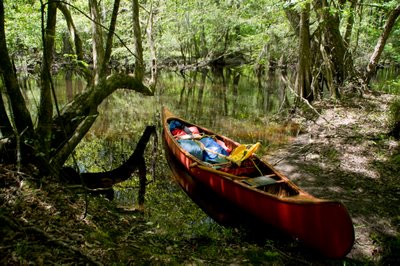 considered camping there but there were two trees rubbing and I knew they would say strange things to me in the night. So further up I explored sloughs and small river channels. Some went nowhere.
I looked for campsites that would be out of the way. Nothing seemed quite right and it was so pleasant moving slowly upstream through the beautiful woods and swampland I just kept going. I promised myself I'd stop at 4 PM but cheated and waited until 4:30. I have not seen one human since I put in. More close encounters with
pileated
woodpeckers, more deer, a few habitations, but no people.
I camped on a tiny island 100 feet by 45 feet. So? I don't quite know how to explain the amazing peace available here. I guess I had some idea it was here or I
wouldn
't have braved my fears.