5-7-08: Tail Of The Dragon
I made a ridiculously huge breakfast (again) and felt kind of overwrought for a while. I just crawled back in the tent and relaxed trying to digest it all. I got out of the campground by about eleven and just drove around exploring the back road, lakes, and campsites scattered about. I stumbled on a motorcycle shop called The Dragon's Tail. I had just recently heard about this legendary stretch of winding road. It was recommended as a place to take action photos of all the motorcycles testing their metal, reaction times, and body parts. It all sounded familiar and reminded me of the notorious Sunday Morning Ride up California Highway One from Mill Valley to
Inverness
.
So I stopped and found out where it was located and headed that way on 129. Sure enough it was winding all right. Lots of bikes and,
hmmm
, lots of photographers with large signs on their vehicles giving their websites. I drove the run, getting a little motion sick en route.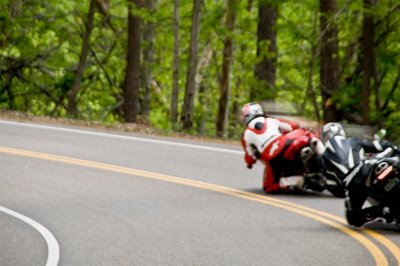 I blamed breakfast. I stopped at the end at a picnic table turnout and had a nice light lunch. Then turned around and went back and stopped and chatted up some photographers. This is their business. They take three or four shots of every motorcycle, car, truck, whatever that goes by and put them up on the web for sale. They tell me that during the summer they take upwards of 40,000 pictures a week.
I talked about photo technique and equipment and, with one guy, unrequited love. Let it go my friend, let it go. Meanwhile motorcycles are going by getting snapped. Most of them are just there for the idea of it and they ride slowly and wave and smile or look tough for the camera. Some are performance jockeys and scream through the turns with their inside knee on the pavement and lots of noise. I noticed old feelings and adrenaline coming up.
And then there is something odd about all this recreational petroleum while driving past all these hydroelectric inspired lakes and listening on the radio to some quick talking "authority" being interviewed on a discussion program and just selling nuclear power as hard as he can go.
I found a very nice isolated, free camp site on a dirt road called Slick Rock Road. I made some soup and messed with photos while a
pileated
woodpecker rattled the trees overhead and the barred owl had things to say. They have fireflies here but they favor the top of the canopy rather than the low levels of those I remember from my Michigan youth.