4-29-08: I, Bozo
Another day in a house. It's getting to feel comfortable and that makes me uncomfortable.
So I went shopping and bought a backpacking stove, a small camera case suitable for packing. and some lightweight food items.
During the shopping trip I noticed that I would forget to lock the car about one out of three times and twice I came back to the car and found my lumbar support lying next to the door. I am a bozo. I am confused. I am nevertheless somehow usually unscathed. Again and again I bumble and put myself at risk and survive. Fine then. I don't get to be proud of it really because I look a fool but, in fact, I
wouldn
't have it any other way.
When I got back to the house I made a simulacrum of my famous
shitake
vegetable stir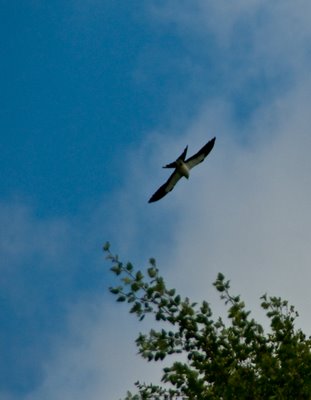 fry. Since I
didn
't have my rice cooker I looked on the web to find how to make rice and learned a new way that made great fluffy rice. Actually, better than my rice cooker.
Peg and I took a walk through the town of Greer SC and then a ride to look at another house she is considering for her next home. Life unfolds.
I took no photos today but I got around to processing one of the endangered swallow tail kite that I took on April 23 on the river trip. I saw them several times—a group of three. For a raptor kites are quite social, often nesting in villages. They are threatened by the loss of the lowland forest habitat which I have been so enjoying the last weeks.