4-23-08: Me And The Resident Alligator
A good start at 9:30 and I focused on putting on some
mileage
for a change. It looks on the map as if there may not be much high ground for camping down the way. I did some exploring anyway.
Mostly cloudy with occasional sun. I had a nice tail wind. Still see no one on the river but me. More houses now but seldom see the residents.
I saw the first ospreys today and many more kingfishers along with more kites, and some wood storks.
I was having such a good time I passed up several very attractive camp sites. Finally I pulled into a little pond off the river and saw what I thought was an enormous turtle on a log. I got the camera ready and just as I realized it was an alligator it woke up with a start and hit the water. The photo
wasn
't the best but it shows a lot.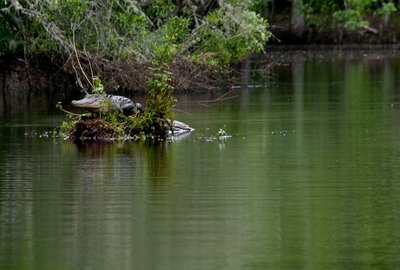 For one thing how much you don't see when they are in the water. There is a lot of beef under there. Another is the spikes all over the back. Primitive. Click on it for larger sized version.
Later, after I set up my tent and had supper I took the tripod and long lens near the log in case he came back. I heard an outboard start and take off from one of the houses across the river behind the campsite. Soon a white-haired man eased his boat into my little pond. When he saw the canoe he looked around, said hello to me, and shut off the outboard.
We talked a bit. He asked if I got a picture of the alligator that likes to sleep on that log. Yes.
He said he just fed him a 30 pound catfish yesterday. I joked that I would be safe tonight then. But later I remembered reading a warning that you
shouldn
't feed the alligators because they will become unafraid and thus have to be destroyed.
I got caught in a little cloudburst while taking photos. It took me a while to get everything covered and my mattress toweled off. When I got squared away and snug in my tent I heard a lot of splashing in the pond. Since it had stopped raining and was still light I went out to see what there was to see.
The old man (he was born the same year as I) had said his little alligator was about six feet long. And there it was, lurking off shore from the canoe. So I got the tripod out again and took
photos
with three different lenses for maybe an hour until there just
wasn
't enough light.
Although the alligator seemed a little more shy of me than I was of him he did keep a presence fairly close and I took it as a territorial statement that he
wasn
't going to be leaving his sweet catered pond any time soon. It did occur to me that he was just waiting until dark. When I put away my camera gear I went out and took one more look and he was almost to shore about 50 feet from tent.