4-20-08: Conditioned To Fear
Much "self-help" is a critique of the tools of fear like thinking and compulsion. Nothing wrong with them in a fearful situation. But you'll never get rid of them unless you get rid of the fear.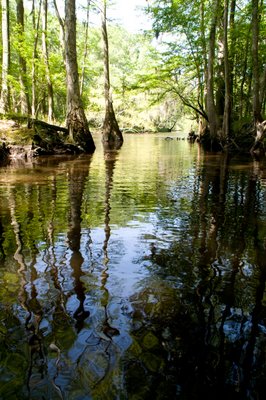 Nor does one want to. Fear stimulates certain kinds of problem solving behavior. But some of our fear is conditioned. Some probably chosen.
These thoughts set me up for a lovely day. The vision of some time sans fear let me experience life with open clarity. This.
Picture me drifting down the beautiful
Edisto
River. The sun is shining. Elegant little puffy clouds are forming—impossibly white, bright, and pure.
I stopped at Carolina Heritage Outfitters headquarters by Highway 15 and charged my
cel
phone and camera batteries in my car while I made a quick run to get some cash from an ATM. Just In Case.
Back on the river after the pit stop I was relieved to leave all the noise behind. Probably my longest mileage day thus far at over fifteen miles. I'm told that is average but I like taking my time, exploring, taking pictures, watching the birds, clouds, mind.
Dinner of rice and tuna eaten quickly because of excess mosquitoes. Respite in the tent reading, listening to the barred owls, then the turkeys roosting in the trees above my tent, then the alarm snort of a deer, a whippoorwill.