4-21-08: Something Very Powerful
On the river at 9 AM. Earliest yet. Just another fine day. Drifting, paddling, exploring, and sometimes taking pictures. I am flirting with happiness here. This is the longest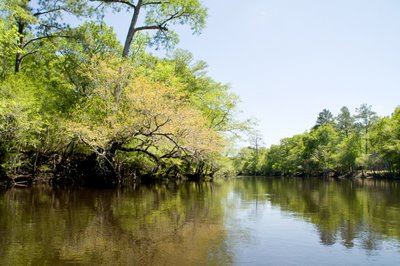 unbroken pleasant
aesthetic
experience on this
odyssey
.
There is something very powerful about doing this. It is opening me to being much more than usual.
Several times I reached a state of perfection—me, everything. This. No analysis. No
labels
. I, for one, like it that way.
I took a side trip up
Four Hole Swamp
, a small gorgeous little river with lots of critters. Turtles, alligators, and the constant background music of bird song.
Where the Four Hole Swamp River empties into the
Edisto
there is a
tepee
. A
kayaker
I talked to
before
the trip told me the man who lives at the
tepee
is an interesting character. So I looked for him on the way in but
didn
't see anyone in the camp though there were several tents besides the
tepee
.Two canoes and an outboard skiff were tied up below the camp.
So for the two and a half hours I spent on the Four Hole Swamp I was always aware of how this person would regard me. He might like my canoe skill.
He
might not appreciate my
ignorance
of the bird calls. Etc.
On the way back down he was about and invite me up so I tied up next to one of his canoes and joined him. He invited me to eat but I declined. We chatted a while. He is 74 years old and has a mile of fabulous river front. He lives
about
20 miles away but camps here for the summer . He was sharpening one of several knives that were here and there in the camp. There was a pistol on a nearby stump.
He was just as proud as he could be and
claimed
to love his life. He wanted to clear some more space and make it available to people on the river for free camping.
I soon went on my way thinking: A) He was not what I had imagined. B) He respected the special place he had. C) He was willing to share. D) He was just another human pride machine.
By the time I got to
Givahns
Ferry State Park I was tired. The longest paddle and the longest time paddling this day six.
The ranger
wasn
't around so I asked a jogger for info. He gave me what I needed so I went back down the bluff to the river to get my tent. When I came back up the ranger pulled up. He checked me in to a site and promised hot showers. The jogger came by my site with more suggestions and told him I was all set. On finding out that I was
canoeing
he said his friend was a
canoer
. He suggested I come by his site or his friend could come over here. I said: "Sure, have him stop by." Within a few
minutes
his friend came by with dinner for me. Much appreciated as I am tired to the point of paranoia and I was beginning to think this whole state park thing was a mistake. It's quite a hike from the river to the campground and my gear is not set up for backpacking. It took several trips and I'm a little worried about the food tucked up in the upside down canoe down on the beach and whether the raccoons will tear up the
wetproof
food bag. Anyway, the gesture of a gift meal and then a long hot shower made me glad I was here.