4-22-08: Day Seven On The River
The food bag was untouched in the morning in spite of my concerns about racoons. It took a while to get going. Another long hot shower, drying the tent, packing the gear back down the bluff.
I was drifting on down with a slight tail wind by eleven. The river is mostly wide down here with occasional fast narrows. I explored some gorgeous side swamps. There were several sightings of the endangered swallow tailed kites. Lots of kingfishers on this section. Houses too, near the roads, and then long stretches of big trees and birdsong.
I stopped at a landing which turned out to be called Good Hope. A policeman pulled up to let his drug-sniffing dog have some exercise. We had a good chat about drugs and about the river while the black lab swam and fetched.
Though it was cloudy most of the day and even sprinkled a little it was lovely. Mid-afternoon the sun began to make cameo appearances and I found an exquisite little creek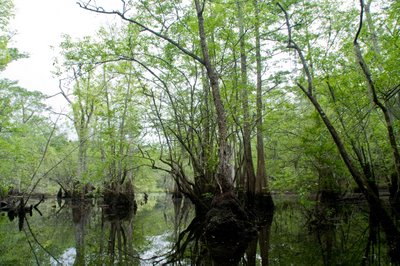 and, after exploring it, camped where it enters the
Edisto
.
I made a wood fire because it was a good place for it and my propane bottle felt light. I probably made less than ten miles today but my back is sore because of all the side trips many of which were against a current.
I keep trying to plan the trip but why? It all seems to work out rather nicely.