4-2-08: Gatorade
Check-out day but I was slow to accept it. It is warm here. The birds are singing unfamiliar songs and the surf is close by. The air is delicious and thick. The salt marshes are beautiful and vast separating the humans by large areas of wild nature.
I did have one mission and that was to return to the visitor center for a chance to see a larger alligator. Oh yeah! Out sunning. I asked the rangers for the right etiquette about approaching from the road. They said I shouldn't cross the dike there. As I geared up I felt a thrill of fear. I got some good shots including
this one
where she turned around and headed for a sunny spot near the water. Then I got into some bushes and took some more. A family came by looking for the photo op and I suggested we move the smallest kid forward as bait. We got good shots without such tactics.
I went back to the campsite and packed up. I had a sort of plan to get a motel near Walterboro and get caught up with the Internet without being interrupted by rain. As usual I wandered quite a bit and stumbled on a little side road that said something about wildlife viewing. It was a dirt road and in the three hours I was there I saw only a few other people.
The woods were beautiful just leafing out.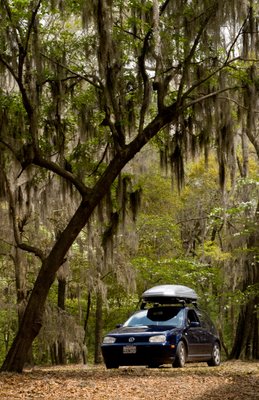 The bird calls were something out of a movie. I kept looking around to see who was joking like that. But no. They really mean it. I read a display that talked about hundreds of alligators. They really mean that too. I finally got the creeps taking pictures of
one pond that had dozens
. I got the feeling they were inching closer and that there were more of them. I drove on to other venues. I had a great time taking
photos
at a place called Savage Backwater and got quite well devoured by small insects. Savage indeed. They have no respect for deet.
I left as late as allowed and drove toward Charlotte but couldn't find anything in my budget over there so turned around and drove an hour back and found a nice motel for $35 bucks with great Internet. It's nice having all the time in the world and a car that gets 40 MPG at the slow speeds allowed around here.