4-3-08: The Egrets, At Home
I checked out of the motel early and got breakfast in a local waffle house. Not great. I found a campsite at
Edisto
Island State Park.
The laptop died finally or rather the display died so it is not usable. Hence, longhand. The paper notebook cost $1.08. I'll wait to see what the IRS leaves to spend on a computer.
I took some local trails at the park and checked out the information center down by the beach. They had some
aquaria
and the crabs seemed to be begging me to let them out. The single attendant had a similar look. There was no one else there.
Were the grey whales asking for help? Are they approaching boats because they are starving as their arctic feeding grounds are warming? I'm remembering the injured pelican at Bahia Concepcion who was begging at the boat and then, later, at the beach.
A ranger told me about a game preserve that had wood storks and I went looking but the GPS guided me elsewhere: Some old plantation being commercialized with tours. It had a walking tour called "
Audubon
Swamp" which fit my budget at seven dollars.
Lots of nests:
great blue heron
,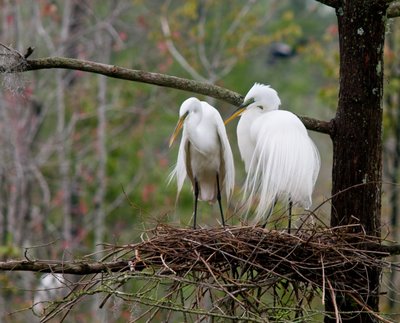 anhinga

,
great egrets
. Is this a zoo? The birds are obviously indifferent to the passing humanoids. I felt guilty but I got some great shots. I was especially pleased with a series of a nesting pair who showed lots of great nesting behaviors. Building the nest, delivering the sticks, mating, etc.
What struck me was the peaceful and deliberate way they did it all. There were great long pauses between each activity. Lots of grooming, staring into space, dozing. The male would land on the ground in a quest for new sticks. He would then look around for the exact right one. Then when he got it he would sometimes discard it and start all over again. When delivered, the stick was either passed to the Mrs. or he would insert it himself. Then again there was a lot of standing around, grooming, mutual grooming, staring into space, and naps.
Foggy and beautiful on the road back under the
Spanish
moss. I made broccoli soup and read and slept.