5-3-08: Questing For Magic Revisited
Today was supposed to be a day of rest. As usual I overdid it instead. Just as I finished breakfast it started to rain. I put on my poncho and took a hike leaving everything except the camera at
campground #58
.
I hiked a couple miles upstream to the Pole Road Creek Trail. Then back a ways and up the Martin Gap Trail to the
Sunkota
Ridge Trail. That part was pretty steep and took me through lunch time without food or water When I got there I just rested under a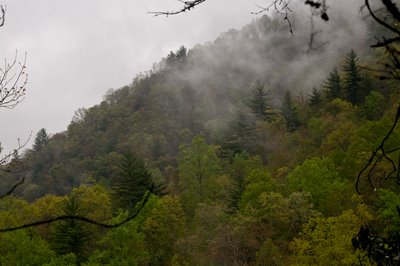 tree and let my poncho collect rain for drinking.
What motivated me through the pain is the aesthetic pleasure of these woods. The wildflowers, the perfect new leaves on the new plants and old, and the green everywhere from the moss on the tree trunks and rocks to the top of the high canopy. Streams and waterfalls everywhere.
I was also somewhat questing for a clear view of what I remember from having been here at this season in 1959. I spent days then watching the clouds and mist rise and fall in the valleys It was a magic time for me and I was revisiting it with this days weather—the weather that give these mountains their name.
I never did get an unobstructed view to bring back in the camera but I saw the beauty of it through the trees. The only people I saw were two couples on horseback. As I passed them the women were dismounted to photograph a perfect
ladyslipper
bloom. When I got back to camp around three I drank a lot of water, had lunch and slept for an hour. When I woke the sun was out. A nice dinner and a short quiet walk ended the day nicely.