Mulege, Baha California Sur, Mexico
2-14-08 9PM
Here's the deal. I'm 230 miles south of Ensenada and I'm still wearing a sweat shirt and my parka. It's raining like mad. Must keep going.
I was shocked by the increase in population since I was here in December 1976. It hasn't changed much in quality but the quantity is overwhelming. I was glad to get to the unpopulated and untrashed areas south of Ensenada. I was tempted to turn around and flee many times. I stopped for supper in El Rosario and a perky gringa asked if I spoke English. Apparently she is running the motel attached to the restaurant and was full of answers to my questions about where to stay down the road. She gave me a map that had lots of tourist info including the news that I should have a tourist card. Whatever. I loved driving into the night because there were almost no cars on the road. It had been quite busy until after six when I passed through San Quintin. I stopped at a sad motel in Cataviña.
2-15-08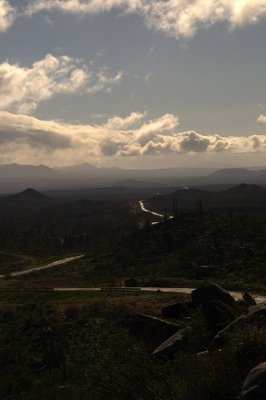 I was rolling by 8:30 feeling a little sick (from the breakfast?) but as the day wore on I felt fine and enjoyed the long empty road. Stopped for a few photos but mostly enjoyed the huge, varied, weird scenery without documentation.
I heard there was a twelve-step meeting in Mulege at 3PM so I tried for it. I got there in plenty of time but couldn't find the meeting. Think about it. I had a whim to go into Mexico day before yesterday and now I'm more than a thousand kilometers south of the border. Be careful what you whim for. At times it has felt like Orfeo Negro descending with all the kitsch and mercantile voodoo. Many times I had a strong urge to turn around and go back but, for whatever reason, here I am.

Mulege is a little town on the Gulf of California that took me in after I had a motorcycle crash in 1976. It was kind and friendly then and seems so now. I recuperated from a dislocated shoulder and spent xmas at a little bay south of here and will go back there to find a place tonight. I remember that I slept in a tent right by the water's edge and it was the only place I have ever been that the fish kept me awake. There was so much sea life that it was turbulent all the time. Nothing stays the same. We'll see how it looks now. This culture doesn't make any effort to cover up how toxic civilization really is. I don't think they have any time for such niceties.
As I uploaded this from the Internet Cafe, some people came in and I overheard them talking about having been to a meeting. Sure enough, it is a few doors away and there are other meetings during the week. Oh yes, I'm covered.