Panga!
1-17-08
With my morning shower I got to chatting with Russ, the gringo (who spoke as if he were the handyman but turned out to be at least a manager but probably the owner) at the restaurant/kayak rental/etc. at the campground. I mentioned that I like to photograph birds in flight. I'm always a little unsure when I say that. Not because it's untrue. I just wonder how odd it might sound. Anyway, he said we should go out in his panga (big boat). Maybe tomorrow. I was enthusiastic. The more he thought about it the more he came to know that he himself wanted to go out right now. So we did. Great shooting of frigate and other birds.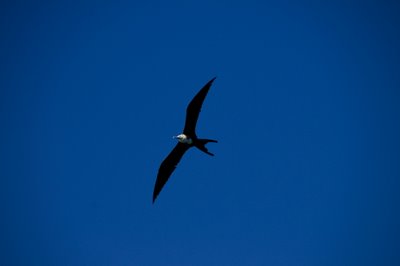 We also had the privilege of hanging out with a pod of dolphins for about half an hour.
The GPS, though it doesn't have maps for Mexico said I am at N 26 45' 57" and W 111 53' 9". I think that is right. It also said I am around 20 feet below sea level. I think that may be in error.
In the afternoon I took a long walk out on a rock and cactus covered point. Good exercise. I'm OK just hanging out for a while. I have to admit, idyllic as it all is, when I am alone and free to feel anything I want, I experience fear and sadness. So be it. Accepted without comment.
This one failed to upload in sequence so I'm going to squeeze it in here.
2-18-08
I got up around 6am because I made the mistake of looking out over Bahia Conception. It was too beautiful to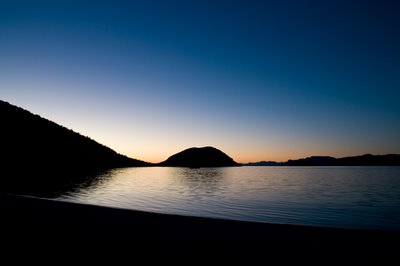 resist so I got up, bundled up, and set up the camera to capture the soft, rosy-fingered dawn reflected on the smooth water. I bought some eggs from a vendor that comes by the beach and had a nice breakfast of perfect 3 minute eggs.
Today was difficult. I wasn't pleased with myself. I couldn't find healthy road food in town and the Internet connection at the cafe didn't work well for me. I expressed frustration and the owner took it personally and tried to refuse payment. The AA meeting that was supposed to happen didn't, or at least not where I thought it was supposed to be. I took it personally and was feeling angry so I took a long walk on the beach in the glorious sunset. I felt better and slept well. I awoke with a novel feeling of just relaxing and letting myself feel and be who I am without the constant tension of judging and covering myself. I could feel the edge of that new territory. It felt good.