3-17-08: Mule Ear Spring, Big Bend National Park
I was up for a long time during the night. Then I dreamed of whales.
After a gentle morning I set out hiking for Mule Ear Spring in the noonday sun. Strange and yet rich desert in drought time. They are way late for the spring rains that would usually have this place blooming by now. The prickly pear (they have several varieties) look stressed and some are dying.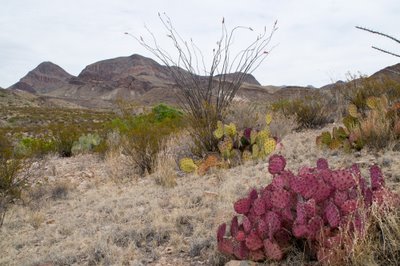 And then right in the middle of it is a sweet little spring running down a hillside into a short crystal clear stream with frogs and
polliwogs
. Plants are flowering here and the bees are all over them. I took some photos and walked back to the car rather slowly wishing I had brought more water or at least my purifier so I could have tanked up at the spring. I have probably doubled my usual 2 liters per day intake lately.
Hot. Windy. I took myself down to the river and immersed in the cold Rio
Grande
which was ever so refreshing. Back at the campground I did some photo processing and tried to figure out how long to stay. Maybe I will head out tomorrow. Maybe not.