3-3-08: Decayed Turtle
Me and the biologists went down the beach to see if we could schedule a boat ride with a local fisherman for tomorrow morning. It is blowing like stink today and is forcast to calm tomorrow. We're thinking positive.
Later we took a ride into Loreto where we wandered around looking for ingredients for tonight's paella. We got some very bad directions from a very attractive woman and got quite a lot of exercise in the process. We saw the first mission on Baja. As I looked at the stone work I thought of the indians who were doing the work and the history that I have been learning about this chapter in human endeavors. It didn't improve my hope for humanity.
The biologists found a decayed green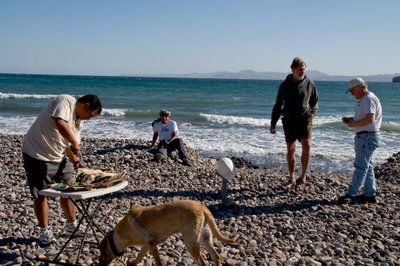 turtle on the beach and amused themselves by disecting it. Left to right igoring the dog: Sergio, Hiram, David, JJ.
Great food again. This Lura person turns out to be quite the cook. I'm getting a lot more civilization than I have experienced for a while. To bed early to rise before dawn.