2-23-08: San Ignacio
I got my last hit of the Internet using it via Skype to make some phone calls, said goodbyes to the nice people a the motel and went in to Mulege to get a couple things and hit the road. The trip was uneventful except in my mind. I was stopped for quite a while at a military road block. Those guys look intimidating. They wear knit covering over their faces so you just see the eyes. The soldier who was talking to the motorists wore a black ski hood with eye holes. It looked more like a holdup than a checkpoint. I got scared thinking this was it—they were going to ask for my tourist card and it was all over. I felt the fear and my trusty inner witness laughed a little. It had a fleeting recognition of the difference between my fear and the bravado I would claim about being ready to die. "I've had good long life" I've heard myself say. When I finally got to the check point they had pulled a big truck over and the soldiers were in the trailer inspecting the cargo. The guy took one look at me and waved me on saying in English: "Go. Go."
I got to the turnoff for San Ignacio and wandered through the town looking for the road to the lagoon. I finally found it and it was paved. I was expecting a road that would be impassible for my little car but thought I should at least take a look. Well, it was paved for the first five miles. Hard packed, oiled gravel for the next five miles. Rough assed rocks for the next twenty five miles. I made it though by driving very slowly with air conditioning and loud jazz on the car stereo.
The landscape was weird. Very arid and sandy with a few cactus plants here and there and an excess of rocks. The lagoon finally came into view on the right but there was a lot of flat sand out there as well. I had no idea what I would find. The camping guide had no information except that you could get tours from town. There were some guys playing soccer at a fish camp and they were speaking English so I asked them what I needed to know to stay out here. They said they were camped at Pachico's and they had gone whale watching and it was excellent.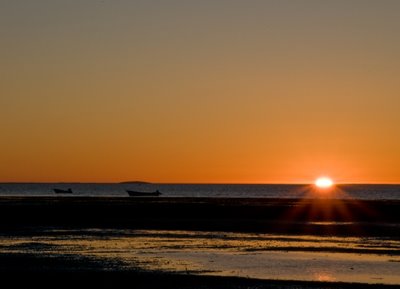 I pulled into Pachico's and met Jesus who was very personable and spoke perfect English. What a great scene! They are very ecologically sensitive and pitch tents for the season and have a designated parking area. Great food, a lecture from a professor of archeology, an absolutely gorgeous sunset that lasted for well over an hour, nice guests from Germany, Denmark, Mexico City, and Los Angeles. I'm booked for the tent site this night, breakfast in the morning, then a bird-watching trip to Isla de los Pelicanos which is said to have the highest density of Ospreys anywhere, and then for a three hour whale-watching boat trip.