2-21-08: No Criticism Required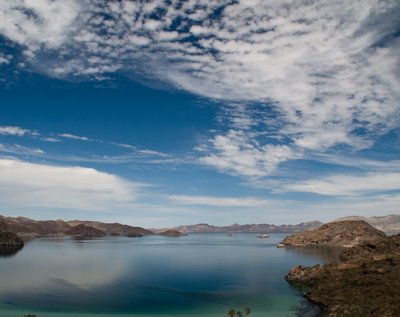 This morning's meditation yielded two things: One, there is no compulsory opinion. I thought there was. There is nothing I have to believe. This opens me to acceptance of a lovely aesthetic in everything that passes. No criticism required. Second, there are probably other people in that state. I have always felt that a deep understanding of cosmic truth would only separate me from the people doing all the shallow stuff I see but maybe not. Perhaps it is just another network that one can plug into, not a sentence of loneliness.
I was at a loss for activities today so I drove south about 15 miles just to see what was there. I got some nice photos of bays and skies. The sky was very blue and the reefs are a delicate light green through the clear water. Perfect photo day so I drove back to Santispac and took some more as the wind came up. By 2PM the wind was blasting across the beach from the north and all the RV people were out furling their awnings. My tent was warped but seemed to be weathering so I drove up the beach out of the wind and planned my return trip which begins day after tomorrow. I'm looking forward to trying Scammon's Lagoon again. The salt flats were too soft for my motorcycle when I tried in December of 1976.
When I came back to my tent after the wind had abated it was on its side. The wind had pulled up all the stakes and only the mattress and gear kept it from blowing into the bay. Yeah, maybe that's why I'm the only tent camper on this beach.