4-26-08: Back To The Grind (And Fun Too)
Bills, bills, bills. And many other gritty details of modern living like fallout from some creep compromising my credit card necessitating it be replaced
necessitating
that some automatic payments done through that card had to be re-submitted and all the logistics involved in doing it from across the nation: FAX, mailing, emailing, voice phone calls,
et
al
. And some fun in the day too getting to see that some of my photos came out well. It was a question because I usually shoot with a tripod but since I was mostly in the canoe I had to hone my hand-held technique. I was pleased with a lot of them.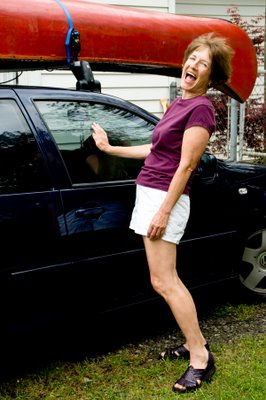 Another fun thing was taking some pictures of my middle sister Peg. We had a good time doing it and got a lot of keepers.
Peg and her daughter Silica joined me on a great walk in the half gentrified, half for-lease downtown of Greer SC under huge threatening thunderclouds. Me counting the seconds from lightning to thunder and dividing by five to get the miles distant. The rain dumped just as we got onto the front porch. We had a great meal of my favorite: chick peas and rice.
The blog is almost caught up from eleven days missed. It is a bit onerous to do like that. I just have to get a laptop so I can do the typing daily instead of transcribing from back longhand jottings. OK. Fine. Make me buy another gadget.
Heh
,
heh
.