3-18-08: Snow?
I awoke early and payed $7 for another day. Cold. Windy. I went for a nature walk with ranger Claudia who told us many things that were edible and medicinal in the desert.
I was planning another hike but it was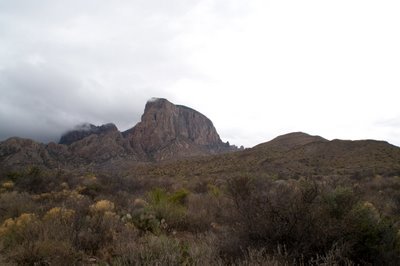 way too cold. I drove up into "The Basin" where it was actually snowing. Hard to believe I was overheated and dehydrated only yesterday. Perhaps I will hike tomorrow which is predicted to be pleasant.
I went back into
Terlingua
and charged up my batteries and chatted with Judy and Steve, said goodbye, and did laundry. Another night or two and it will be time to hit the road.
Back to the campground stopping and taking
photos
along the way. The wind is blowing hard and cold having swung around from the north.