3-4-08: Finding Azul
It looks good. We head on out of the harbor and encounter a humpback whale right outside. We checked it out, snap some photos and head south stopping to visit with various fin whales along the way. Sergio and Hiram wanted so badly to see blue whales that they were sort of disappointed every time
JJ
would say with authority that they were fin whales.
Sergio asked the driver a question and he assented and next I knew Sergio had put his camera in a waterproof case, stripped to a bathing suit, donned fins and mask and jumped overboard with a whale. We did this a few times and he probably got some good underwater shots.
We were still looking for a blue whale and Hiram was beginning to chant: "
Azul
,
azul
,
azul
." It was a beautiful day and we went quite far. South almost to
Isla
Monserrat
. Other
pangas
were out there. Some fishing, some looking at whales. We joined another boat near a fin whale and when the whale dove after its several blows our driver went near enough to ask the other driver if they had seen any blue whales. The driver said: "Yes, right over there." So we went that way and almost immediately saw a beautiful huge blue whale. And then others. Sergio got quite close to one in the water. We were all quite pleased. We kept the driver out as long as we could and got a lot of photos. At last we had to go and the wind came up and we quite a rodeo on the long ride back to the harbor. Altogether, since this morning, almost nine hours in the boat. What a day!
We bought food and went back to David and Lura's place and ate more and then the biology contingent had to leave for La
Paz
and I went to bed and slept like a stone.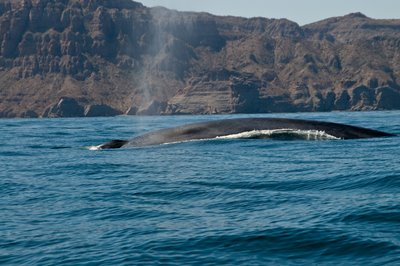 Understand that this photo is just the front half of this enormous animal.