3-5-08: Ojo De Liebre, AKA Scammon's Lagoon
Up to a fabulous breakfast of French toast with honey/banana/mango sauce. I'm almost embarrassed to eat this well.
On the road again. Great
scenery
on a calm morning. I thought I might check into the motel in
Mulege
again and catch up with the
Internet
but the hotel was full so I took it as a sign to head on north. I was thinking about some of the things we had been talking about the last few days and recognized myself as an other-directed person—someone who lives their life to please others. Much of my time is spent imagining how I must look from the outside.
There is a twist. Since people don't really admire people
pleasers
, the dedicated people
pleaser
must act like an
independent
person—not a people
pleaser
. Anyway, I watched myself try to plan my next destination against the background of checking to see if I was doing it for myself or for my friends or for my blog or just because it might make a good impression some day. Understand, I'm driving down a road, all alone, usually not with even one other car in sight. I'm alone, by myself. Struggling with a relationship that
isn
't there. It
wasn
't that easy to sort out but I eventually found myself heading for
Ojo
de
Liebre
the premiere grey whale hangout.
I tried the road to
Ojo
de
Liebre
in 1977 on a
motorcycle
and was turned back by the deep sand. The sand is still there but fairly well groomed now and it let me in. I looked around for a campsite and watched the spouts in the distance. Many spouts. More than one per second in the
binoculars
.
I chatted with some of the other campers and asked some of them what to do about overpopulation. I keep asking. Maybe someone will get me a clue one day. Or not.
A heavenly sunset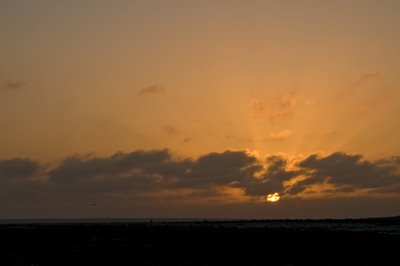 and some photos of it then this writing and, after dark, a motorcyclist arrived and camped near by. He came over to chat. He's got here from San Francisco in three days. I told him to take a break. Too late for the restaurant I gave him some chips and a banana and the layout and the setup as I understand it here. Possible
panga
tomorrow at eight.