3-6-08: No Whales Allowed In The Boat
I
couldn
't resist taking another whale watching trip even though the original plan for
Ojo
de
Liebre
was just to commune from shore. But there were so many blows and backs visible that it just seemed right to go among them. I went out with some nice folks who had a couple youngsters with them. Girls maybe six and eleven.
Whales all around us. We were barely arrived in the area when a very frisky young whale took a liking to us and cavorted, rolled, smooched, bumped the boat, stood on its head with tail up at the surface, and a couple times seemed to want to get into the boat with us. This went on for about an hour. Momma standing by and her size letting us know that we were to be nice to baby.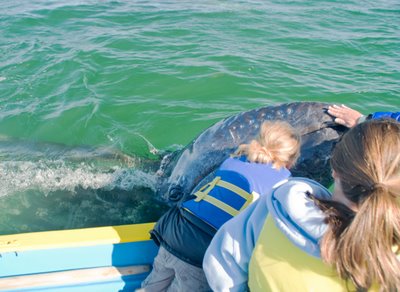 These things are huge. Why
we
ren't the children scared? Or me for that matter?
The driver was very gentle and not pushy. We got lots of contact and were surrounded by whales in all directions. The thing about this place is that there are a lot more whales in this lagoon than in any of the others. You can look in any direction and see whales at just about any time. Another great day.
Down the road to Guerrero Negro and into a motel to process photos, shower
et
al
. Life is good though I am somewhat worn out from boating excess.