3-19-08: Ozona TX?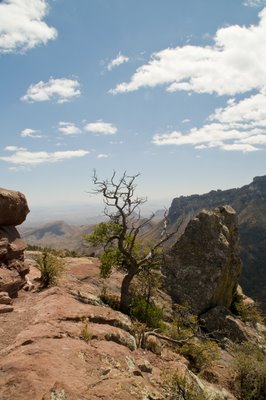 Frost on the picnic table but clear and promising and no wind at all this morning. While waiting for the gear to dry I looked for the definitive closeup photo of a
Vermilion
Flycatcher. I didn't get the shot. Packed up the camp and got to the foot of the Lost Mine trail at noon. Beautiful day and the best scenery of a lot of fabulous scenery in this park.
Beautifuller
and
beautifuller
as I climbed.
I had a great day climbing what turned out to be about 2000 feet, taking photos, and chatting with my fellow hikers. The views were magnificent all the way up and on top and then coming down again.
I drove on out of the park thinking about all the beauty I've witnessed here. Someone in Alpine last Saturday asked me what I thought of this area and I said: "It's like living in a postcard." It is overwhelmingly picturesque. And Judy was right: you need to give this place more than a day or two to let it get to you. It seems to present the struggle and drama of life in a naked way. You can see the bones of the earth and how life utilizes earth's infrastructure and
strategizes
survival. I am humbled by and grateful for the preservation of such a large chunk of nature in Big Bend park.
I passed on a lovely RV site in Marathon TX for no good reason and went to Ft. Stockton where there were no vacancies anywhere. So I drove the interstate another hundred miles to
Ozona
—wherever that is—and computed until midnight.
I'm looking into my own judgement issues and trying to see what I can change about myself since I don't seem to be able to change everyone else. I'm guided to ask whether those judgments come because I still want people to care for me so I don't have to. In other words, another maturation issue.