4-19-08: Happy In General
As I left that little slough where I camped last night there were some other paddlers on the river. First I'
ve
seen. I have seen a few motorboats with overweight fishermen smoking cigars and hoisting a beer but no paddlers. Mom is in a kayak and dad and daughter in a canoe.
When asked for a weather report they said rain is expected tonight and clear tomorrow. I went on by them as they were just drifting and chatting. I said they would see me again because I checked out all the side trips.
Having said that I began to see myself from their viewpoint and considered gong into places I
didn
't really want to. No wonder I like being alone. What a lot of social freight I carry.
The river was wide and lovely. I tried the style of the family behind me and drifted some. Since the river is mostly going south the best light for photography is behind me. I'm getting pretty good at paddling backwards down the river. We leap
frogged
for the ten miles to the little tree house cabin where they were to stay. The cabins are provided by Carolina Heritage Outfitters and cost $125 a night. The family invited me up to see it. Very elegant with a little gas range, a loft, and two futons. It will sleep six and there are others cabins that are a bit larger.
I paddled only a short way downstream when I found a lovely inlet leading to other channels. A large fish flopped and I pulled in there gliding between the cedar knees and into a little hideaway beach where I could flip the canoe upside down in case of rain.
I emptied it out, sponged out the mud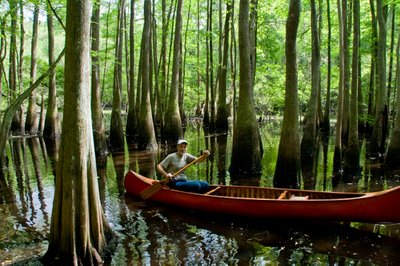 and sticks from the last four days. Then I set up the tripod and took some photos of the canoe—some with me in it. The canoe is quite interesting. A worker for the Carolina Heritage Outfitters asked: "What kind of canoe is that?" I told him: "It is an Old Town canoe that my dad bought used more than fifty years ago." Together we are a period piece.
Happy to get dinner and everything squared away by 5:30. Happy to get these old bones horizontal. Happy with life on the
Edisto
River. Happy in general. The weather has been perfect. The canoe
hasn
't leaked a drop since my repair at launch. I am in awe that I am privileged to have this experience. I am ever so grateful to myself for letting it happen.