Camped Out On Santispac Beach South Of Mulege.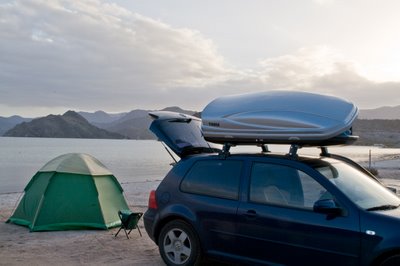 I committed to a week to get the rate down from $7/day. It is very pleasant and much as I remembered. More people of course, fewer birds and fish. I was delighted to see the frigate birds are still here and enjoyed watching an osprey patrol the beach this morning.
I'm realizing I must have been pretty fried out yesterday to not notice the osprey nests on the power poles between Mulege and Bahia Conception not to mention the xmas decorations in Mulege. I am basically off duty for the first time since I left Santa Rosa on Feb 3. It is warm. There is a breeze. I'm home for a week. I will take advantage of it. Note photo of domestic scene. I promise not to overdo this sort of shot although the blog photos will be more about the trip and the flickr shots more about the photography.
Nice.